Microrad rugged tilt sensor
The Vectory Sensor Systems Microrad is a rugged, versatile, very high accuracy tilt sensor / inclinometer, ideal for any kind of application where reliable, accurate tilt measurements are needed.
The Microrad consists of 3 high accuracy state-of-the art low-noise MEMS accelerometers. These are used to measure the apparent gravity to output values of pitch, roll and inclination.
Versatile: Configurable for any application
The Microrad has a full 360 degree range in both roll and pitch giving the user full freedom in how to install the tilt sensor. There is no limitation as to how the sensor should be mounted, which removes many installation issues. Setting the installation angles is easily accomplished through the Microrad configuration program, which gives a visual representation of how the tilt sensor is supposed to be installed.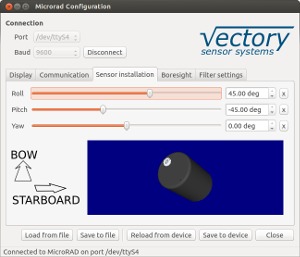 A variety of industry-standard output strings are available from the tilt sensor, such as CDL MiniTilt, TSS1, as well as a proprietary string outputting all values of interest from the Microrad. Custom strings are also available on request.
For multidrop configurations, the Microrad also supports MODBUS RTU protocol, easily integrating into existing SCADA systems.
The Microrad is software configurable for both RS232, RS422 and RS485 multidrop (MODBUS RTU) communication.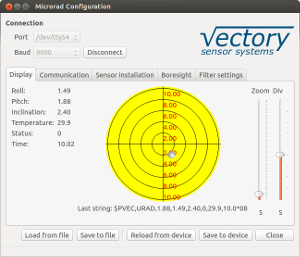 Accurate: Low noise and drift
Every Microrad tilt sensor / Inclinometer have been individually calibrated by Vectory Sensor Systems at our in-house calibration facility. This gives the sensors an extremely low temperature dependency on roll, pitch and inclination outputs.
The sensing elements and the signal chain within the Microrad are very low noise, giving accurate measurements.
The long-term stability of the roll, pitch and inclination outputs are within 0.05 degrees over a period of 2 years. After what we recommend to send the tilt sensor back to us for recalibration. Read more about our recalibration process .
Responsive: Low settling time
The Microrad employs MEMS sensing elements instead of the older electrolytic based tilt sensors. This means that the settling time can be extremely low. It is completely configurable using the low-pass filter setting in the configuration program. The setting of the low-pass filter time constant is a tradeoff between rejection of disturbances due to translatory movements and how fast the sensor should react to a change in tilt. If the sensor is not going to experience any translatory movement, but only be rotated, the Microrad can be used as a dynamic tilt sensor by setting the low-pass filter time constant very low. However, for a truly dynamic sensor, where translatory movement is involved, one should look at our Horizon range of motion sensors.
Rugged: Built for extreme environments
Originally designed for offshore piling operations and construction, the Microrad tilt sensor has been built from the ground up with ruggedness in mind. These sensors will stand up to the harshest conditions without breaking. The accuracy of the Microrad sensors have been proven not to be influenced by shocks of at least 20G 11ms half sine and 75G 5ms half sine. A test report is available on request.
Full Specifications
Less than 0.3 W power consumption
Less than 0.5 kg
Housing size: 93 mm, Ø 62 mm
IP68 topside or 3000M subsea rated housing
Range: 360° roll and pitch
Absolute accuracy: 0.05° over entire range
Resolution: 0.001°
Maximum update rate: 10 Hz
Output interface: RS232/422/485 multidrop
Output formats: TSS1, CDL MiniTilt, PVEC-URAD, MODBUS RTU, custom
Shock tested at: 20g 11ms hs, 75g 5ms hs
Applications
Markets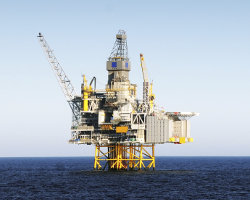 Oil and Gas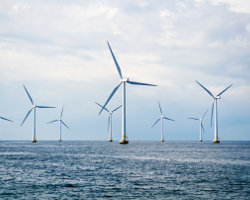 Renewables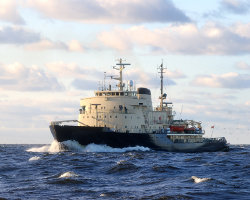 Marine